reporter:
Miguel Dominguez
On February 27, haberdasher
Paul Stuart
had a marvelous opening exhibit at their store on Madison Avenue to celebrate the book
Hurrell: The Kobal Collection.
Peppered throughout the store and on the street windows was a choice assortment of prints from The Kobal Collection taken by George Hurrell, the great master photographer of the stars during the Golden Age of Hollywood.
George Edward Hurrell was born on June 1, 1904 in Cincinnati, Ohio. Hurrell became acquainted with the camera while in art school. Then, one spring day in 1925, while still attending the Chicago Art Institute, Hurrell heard that famed landscape painter, Edgar Alwyn Payne, an alum of the Art Institute, would be giving a lecture at the school. Hurrell attended the lecture, and afterwards Payne viewed the student's work. Payne was particularly impressed with Hurrells' experimental painting style and told him to come with him to Laguna Beach and paint.
For Christmas dinner in 1925, Hurrell was the guest of the Payne family at the home of William A. Griffith, another prominent Laguna Beach plein air painter. The most important person he met that evening was Florence Leontine Lowe Barnes, later known as "Pancho".
In 1929, Pancho's best friend was Ramon Novarro – who was the biggest movie star at MGM, and also the most famous silent movie star in the world. Novarro, who was of Mexican heritage, was worried that he might not make the transition to sound film because of his slight accent. The danger was that if word leaked back to MGM that he was nervous about his career, his new salary negotiations could be jeopardized. So, he could not use any of the usual Hollywood photographers in town – or anywhere else for that matter.
And so, at Pancho's urging, Ramon Novarro had a series of photographs taken by George Hurrell.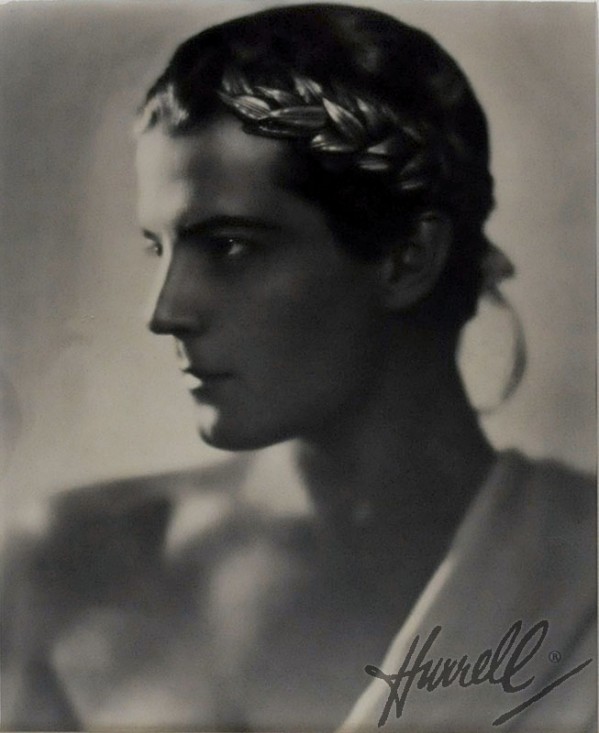 One of the photographs from the first
sitting with Ramón Novarro.
Novarro showed the photos that Hurrell took of him to his best friend, Norma Shearer, who was married to the head of production at MGM – Irving Thalberg. Norma had recently read a script, called the DIVORCEE, that had a part that she very much wanted to play. This role would greatly change her image, and also give her the opportunity to show others that she was capable of playing several kinds of roles. However, when she showed the script to her husband, he replied "Honey, I don't think this part is for you. You are not sexy in THAT way." Well, that really got her upset hearing this from her husband.
Ramon Novarro visited Norma with the stack of photos that George Hurrell had taken of him. She was sold. She decided to have some photos taken by Hurrell so that she could convince her husband that she WAS INDEED sexy in THAT way. He agreed. She was indeed sexy, in THAT way. Their marriage improved, she got the film role, and she won the Academy Award for Best Actress as a result of her portrayal in that film.
In October 1929 Hurrell was offered a job as portrait photographer at MGM. Pancho flew him to Culver City to MGM's employment office so he could sign his employment contract, and on the flight back to Laguna Beach, Hurrell 'wing walked' on her plane in celebration.
— Biography and photos of Ramón Novarro and Norma Shearer from the George Hurrell web site.
Gabriel Sanders with Joseph Baldassare of Arthouse 18, responsible for the event.
With 288 pages and featuring 260 b/w photographs, Hurrell: The Kobal Collection was written by
Phil Moad and edited by Tony Nourmand.
George Hurrell is one of the greatest portrait photographers of Hollywood's Golden Age. His strong contrast black and white images and groundbreaking use of negative retouching revolutionized the medium of Hollywood portraiture during the 1930s and 1940s.